About the Expo
Event Logo
About the World Horticultural Exhibition 2027 Yokohama Logo
The World Horticultural Exhibition logo was created in order to promote and spread awareness of the Exhibition both in Japan and abroad, while also boosting people's attachment to and pride in the event. The current logo will be used until the Japan Association for the International Horticultural Expo 2027, Yokohama finalizes their Exhibition logo.
Meaning Behind the Logo Design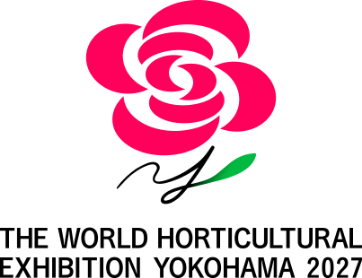 Adopting a flower design, the logo for World Horticultural Exhibition 2027 Yokohama expresses the concepts of flowers, greenery and rustic scenery while symbolizing the global-scale gathering together of nature, people and culture. The petals of the flower express the diverse types of exchange that will take place during the Exhibition as well as the life force of the event which will foster a happier tomorrow. The leaf of the flower symbolizes harmonious coexistence with Mother Nature, and the stem's "Y" shape represents the host city Yokohama.